The impetus for Skylum Luminar Neo was the desire for a photo app that would make extensive use of AI to improve and enhance your digital images. It has a simple interface that's a pleasure to work in, and it retains the company's previous Luminar application's sky replacement and extensive set of filters and editing tools. It also gets layer support with a library of textures and overlays. Unique AI adjustment tools and filters—and the fact you can install it as a plug-in for the more complete Photoshop and Lightroom apps—make it a worthy addition to any photographer's software toolkit.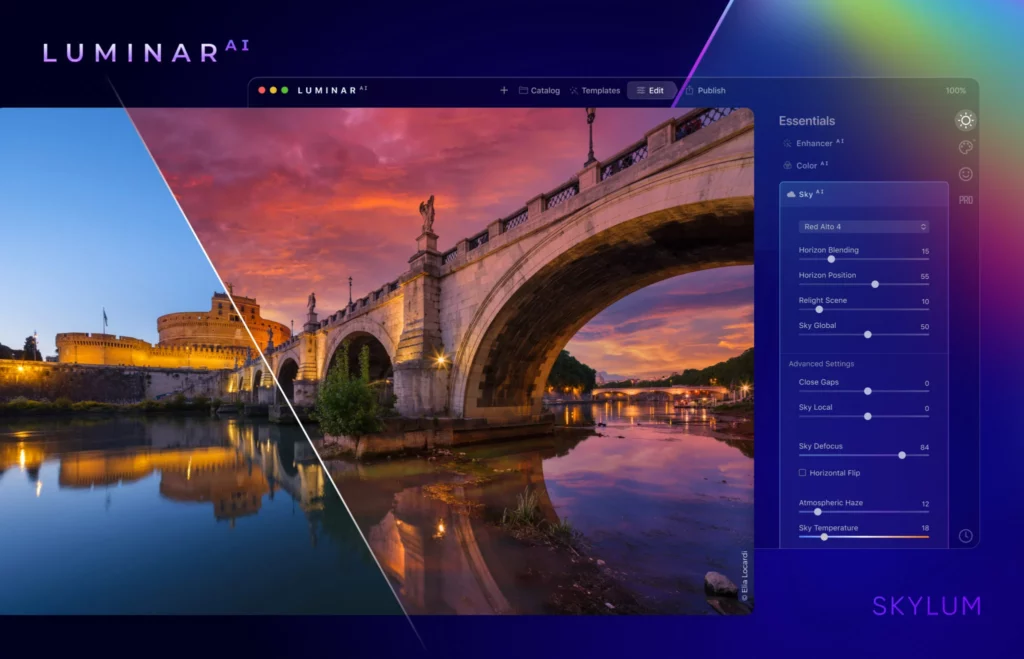 Since my last look, Skylum has delivered a steady flow of what it calls extensions—really just optional features and effect modules you can install or not as you choose. These come with the subscription pricing option or you can buy them each separately ($49) or all seven together in a pack ($299). Upscale AI, Supersharp AI, Focus Stacking, Background Removal AI, Noiseless AI, and HDR Merge are the latest extensions, and I like the strategy of not forcing everyone to install lots of features they may not use. The company continues to improve the program's user interface and performance, as well.
Setting up Skylum Luminar Neo
At setup (or later), you can install Luminar Neo as a plug-in for Photoshop and Lightroom Classic, but unlike its predecessor, it doesn't let you install plug-ins in Luminar Neo itself (for example, for Topaz noise reduction). The program takes up about 2GB of hard drive space, similar to Lightroom's size. When the installation is done, you sign into a Skylum account and then you're presented with a QR code to install the companion mobile app for wirelessly transferring images.
Skylum Luminar Neo's Catalog mode shows a grid of your images with a left-side panel for dates, folders, and albums, along with photo shot details. (Credit: Skylum)
On the first run, you see a very simple interface with a big Add Photos button. There's no explicit import process in Luminar. You choose a folder and bingo, all the images it contains are added to your Luminar catalog. Though this means you do without things like transferring image files from a card to your computer, it does get you to your pictures fast. You can start viewing and editing instantly. My card with 858 files was "imported" in a few seconds. Moving forward and backward through images in the catalog was also snappier than in most applications.
Minimum and recommended computer specs
As with every photo editing software, there are minimum computer requirements for running Luminar Neo and recommended specs for best performance.
Luminar Neo Review 2023 Minimum Requirements Mac
These are the minimum system requirements for running Luminar Neo Review 2023 on your Mac.
Mac Model: MacBook, MacBook Air, MacBook Pro, iMac, iMac Pro, Mac Pro, Mac mini, Early 2010 or later.
CPU: Intel® Core™ i5 processor or better.
OS version: macOS 10.14.6 or higher.
RAM: 8 GB RAM or higher (16+ GB RAM is recommended).
Disk space: 10 GB free space on the hard disk; An SSD for the best performance.
Display: 1280 × 768 resolution or greater.
Minimum Requirements Windows
These are the minimum system requirements for running Luminar Neo on a Windows computer.
Hardware: A Windows-based hardware computer with a mouse or similar input device.
CPU: CPU Intel® Core™ i5 or better, AMD Ryzen™ 5 or better.
OS version: 10 version 1909 or higher (64-bit operating system only).
RAM: 8 GB RAM or higher (16+ GB RAM is recommended).
Disk space: 10 GB free space on the hard disk; An SSD for the best performance.
Display: 1280 × 768 resolution or greater.
Graphics: OpenGL 3.3 or higher compatible graphics card.
What About Luminar Neo Luminar Neo Review 2023 Future?
Where is Skylum Luminar Neo Review 2023 going in the future? Will Skylum pull the draw on it and introduce another new Luminar in 2023? Those are each great questions! Unfortunately, I don't have all the answers but I'll tell you what I do know and what I believe. First, in my judgment, I believe Luminar Neo is then to stay. I know they've said that about other performances of Skylum Luminar Neo Review 2023 in history and also changed the roadmap, but this time I suppose it'll stick.
60% OFF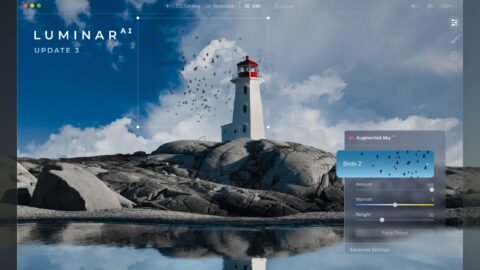 50% Skylum Coupon - New 50% Skylum Coupon Code
Skylum has invested a lot of time and trouble into Neo and I only see it expanding and growing in the future. tête-à-tête, I've been canvassed by the development platoon three times during the timber of Skylum Luminar Neo Review 2023. They took all my feedback onboard as well as the numerous others who were canvassed. I also transferred their images to help train the Artificial Intelligence (they wanted horribly dust-spotted images so I transferred them about 100 really bad bones). So they're really involving their mates in the development of Skylum Luminar Neo Review 2023
Conclusion
Still, thanks for reading! It's my stopgap that this Luminar Luminar Review 2023 review has helped you make a decision on whether or not to add it to your digital workflow If you made it this far. However, flashback to using my reduction law DPM- Luminar (chapter link) to save plutocrats when you checkout, If you DO choose to buy Luminar. Overall, I rate Luminar Luminar Review 2023 4 out of 5 stars. Yes, there are many effects that bug me about it, but in the bigger picture it does what I want it to do and it does it well. I'm agitated to see where Skylum takes it and I'm in for the long haul. If you have any questions about Luminar Neo or my course on it – just pop them into the comment area below and I'll try to help you answer them. Do you formerly enjoy Luminar Luminar Review 2023 and use it yourself? If so, what standing do you give it? I want to hear from you, tell me about your studies in the commentary below.